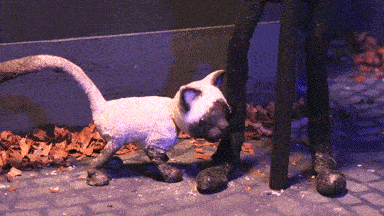 The Nest
Puppet and set fabrication project, with photo documentation. The full set was on display at the ROOT Exhibition in Singapore in 2014.
"The Phantom's Friend" is a short stop-motion animation about Erik (everyone's favorite opera ghost) and his chance meeting with a rare Siamese kitten one night on the streets of Paris in the mid-1800s.
Based on the Susan Kay adaptation of the story behind the Phantom of the Opera, where the character of Ayesha the cat is introduced. Puppet design based on the original design by Maria Björnson for the Andrew Lloyd Webber musical, which is in turn based on the original novel by Gaston Leroux. The puppets and set took three weeks to build, the animation was done over 48 hours.
Done for my final project for the Intro to Stop-Motion Animation class at the Rhode Island School of Design, Fall 2013.
Characters, set, animation: Deb Yan
Advising professor: Agnieszka Woznicka
Sound effects: freesound.org
Music: The Music of the Night (From "The Phantom of the Opera", by Andrew Lloyd Webber) Piano by Alden David
Short exercise involving a clay animated lip-sync, with dialogue.
He can't help that he's an onion that gets easily embarrassed!
Dee and Shao's Secret Handshake
Short animation test with my two stop-motion puppets! Featuring two best friends Dee and Shao from my Homelands series, doing their very own special handshake.
Stop-motion animation centered around puppet interactions. This was a group project.
I made the bear character, his name is Oswald. I animated him too!
Two creatures find a strange cube in the middle of a forest and try to figure out what makes it tick.
Puppets, set, animation and editing: Deb Yan & Nicholas Martinez
Intro to Stop-motion Animation, Fall 2013
Advising Professor: Agnieszka Woznicka
Sound clips from freesound.org
Before there was Oswald, there was foam and Sculpey and aluminum wire
Jeremiah the frog lives in a well. He loves his comics.

A 3D Illustration project based on the fable of the frog in the well.

Made with Sculpey, acrylic paint, wire, foam, 9V battery, newsprint, fabric, wood, masonite, tracing paper, epoxy, latex, tiny incandescent light bulb, comic book printouts. Set constructed out of wood and foam.